GRAMMY ROCK THE YACHT EXPERIENCE!
4 Level Yacht Experience
This year we have moved the Largest Pre-GRAMMY Party from HOLLYWOOD to the Pacific Ocean. This Night Includes : Celebrity Red Carpet , Celebrity Live Performances, Celebrity Award, Legend Presentations an exclusive Fashion Show with top designers and Top DJ'S on 3 decks of the Fanta Sea One.
we would like to invite your company to become a part of this Grand Afgair, to bebseen in of producers, Celebrities, executives. promoted to the millions Each Year This Event Sales Out!!
we will Honor names like Kendrick Lamar ,Diplo, Faiyh Evans and many more for their 2016 Achievement
Captains Welcome: Before you enter into the Fanta Sea One Yacht you will be greeted by the Captain then walk down the red carpet and grab complimentary champayne. Prepare yourself for 4 levels of Experiences !!!!
Level 1 (Captains Lounge): Celebrity / VIP Gifitng Suite – Includes Host Open Bar & Live Band
Level 2 (Admirals Room): Fashion Show with top designers
Featured Designer: Linda Stokes
Her clientele ranges from Jennifer Lopez to Cher, Janet Jackson to Faith Hill, Britney Spears to Sade, Macy Gray to Shakira, Sean "P. Diddy" Combs to Ozzy Osbourne, not to mention N'SYNC, Jessica Simpson, TLC and Patti LaBelle.  From every genre, Linda Stokes designs are also seen from Supermodels to Super Athletes.  Tyra Banks, Claudia Schiffer and Carol Alt of the fashion world, Will Smith, Martin Lawrence, Steve Harvey, and Cedric the Entertainer whose faces are common place on both film and television, Master P, Lil Bow Wow, Lil Kim and Sisqo of the music industry, Magic Johnson, Gary Payton, Gary Sheffield and Alexei Yashin from sports.  And this is just her short list.
Level 3 (Party Deck) Top DJ's from all over the world
Level 4 (Sky Deck) :Rooftop Lounge includes hookah, cigar stations and open bar.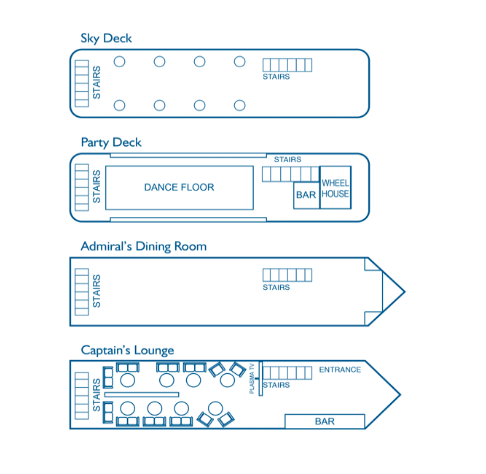 EVENING AGENDA
8:00- 9:00pm  VIP A List Celebrity Red Carpet & Meet & Greet 
*Location: Exterior 
8:00-9:00pm Gifting Suite / Gift Bags for VIP's and Celebrity Guests
*Location: Captains Lounge
9:00-11:00pm  Fashion Show with Top Designers
*Location: Admirals Room
Featured Designer: Linda Stokes
9:00 – 10:00pm  Legends Presentation Awards
*Location: Party Deck
9:00 – 2:00am  Live DJ / Celebrity Performances
*Location: Party Deck
10:00 – 2:00am  ViP Rooftop Lounge / Open Bar
*Location: Sky Deck
11:00pm Yacht leaves dock  !!!
**The yacht will not go into the ocean it will remain in the Marina, so no worries of getting sea sick.
1:30am Yacht Returns to dock !!!
Have Questions ????  Call/ Text (213)713-4154
Parking: There is a huge lot for parking or feel free to get dropped off. There is no cost for parking.
Once you buy your ticket you will receive email with Dock Information

TICKETS ARE NOW AVAILABLE!!!
for additional information please leave your email or email me at giannivd1610@gmail.com